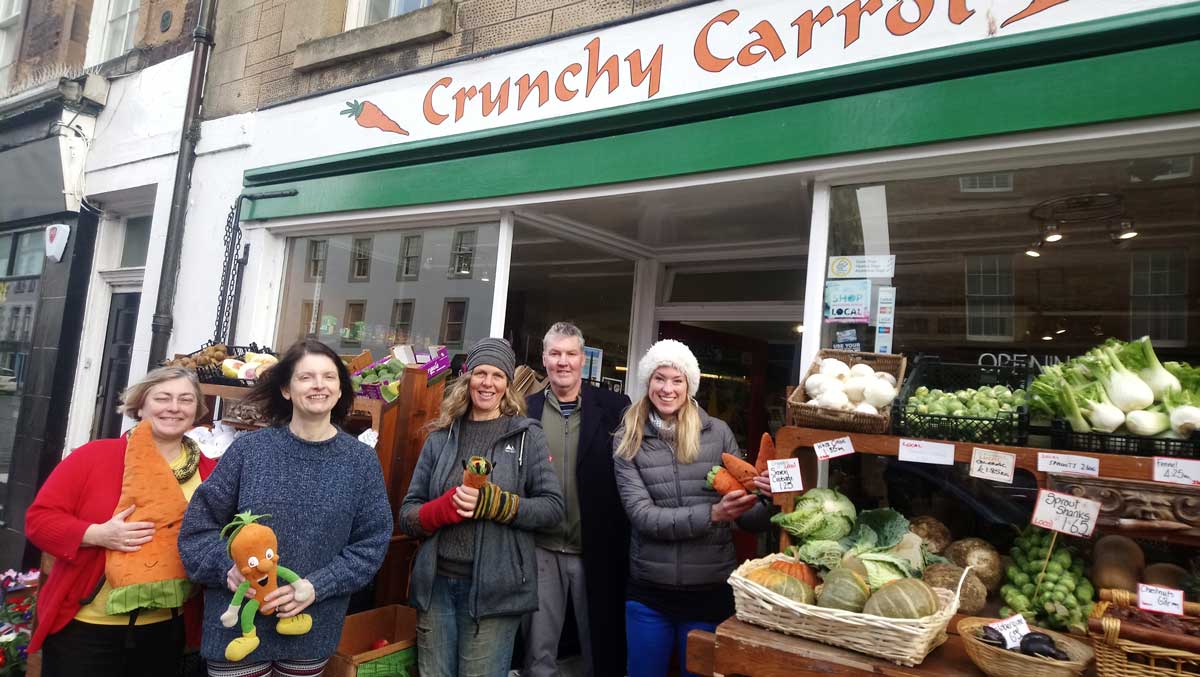 Background
Much loved greengrocer The Crunchy Carrot had been a fixture of the Dunbar high street for over twenty years when its owners made the reluctant decision to move onto new ventures. Having long been run with the aim to be "a whole lot more than a fruit and veg store", it was seen as vital that the shop continued with that socially conscious ethos.
Cooperatives Development Scotland funded an options appraisal, helping those involved to understand different ownership models available to them. A group of volunteers formed to begin developing plans for a community owned shop, accessing further support from the Plunkett Foundation and Community Shares Scotland to help consult the community.
Success
The community share offer launched in June 2019 and volunteers ran a series of busy events, providing entertainment and delicious catering for people of all ages. The high-profile campaign quickly exceeded its target of £50,000, securing the necessary investment to draw down a Scottish Land Fund grant to purchase the shop building.
Inspiring others
"There were times when the task and the funds we had set ourselves to achieve seemed
daunting and unfeasible. However, as soon as we launched the share offer and the scale of the community's support for this project became clear, the years of hard work that had preceded it were more than justified. The guidance from CSS gave us confidence and the motivation to continue, and we felt that we were part of a wider story. Knowing that others had already succeeded in doing what we hoped to made our aims feel that much more achievable."
Hannah Ewan, Development Officer
The future
While the shop itself retained its much-loved name, the move to community ownership saw the wider business rebranded as The Community Carrot, as which it will continue to operate as a champion for fresh produce and sustainability. Community activities will include close links to local primary schools and holiday clubs to educate children on how food is grown, and a community compost scheme.
The community share offer raised
£65,630