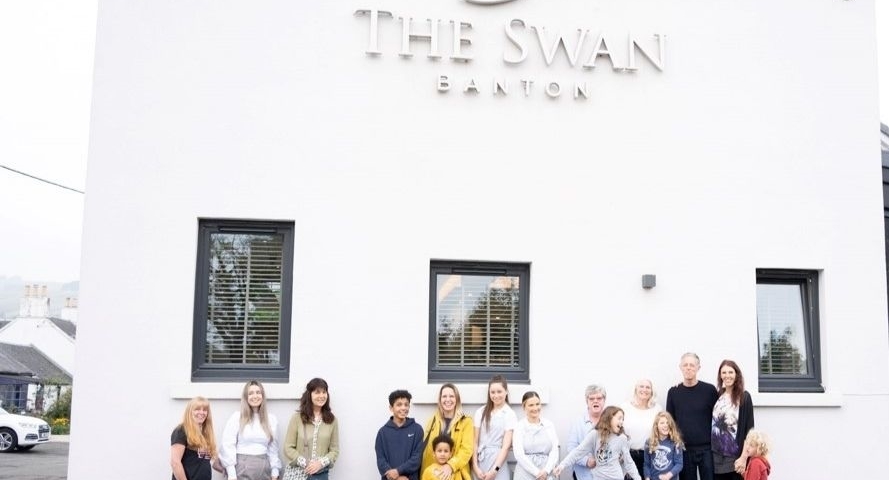 For 170 years, the Swan pub has been at the heart of the Banton village community. However by 2016, the pub had fallen into disrepair and was at imminent risk of demolition.
For the community, the loss of their local pub after already having lost their post office and only shop was out of the question, and so People United for Banton (P.U.B) Community Benefit Society was formed.
Following a community consultation in which 73% of local households participated, it became clear that not only did residents want to save the pub; they also wanted to create a village hub, offering a daytime gathering space which would welcome the whole community. This was the aim for bringing The Swan into community ownership and converting it to meet the needs and aspirations of the community.
In December 2017 the Scottish Land fund awarded People United for Banton £180,000 to buy The Swan making it the first community-owned pub in Scotland. Generous grants also came from both Big Lottery Community Assets, Kelvin Valley LEADER and The Clothworkers Foundation to fund the extensive redevelopment required.
However the community still needed further funds for the creation of the village hub; including the community-owned restaurant, pub, and multi-purpose space which all needed refurbishment. On the 1st October 2019, with support from the Community Shares Scotland team, P.U.B launched their share offer and raised £25,000 with 235 investors.
We were very luck to receive a lot of external funding for the project but the community shares model helps us give people a real sense of ownership over the building and business

Annette Johnston, Chair
Following renovations, the pub reopened its doors in August 2020 providing a much needed place for people to meet and socialise in the village. In the long term it will provide volunteering, employment and recreational opportunities within the village.
The buyout of the pub has had wider implications for the village, with additional investment already being seen by local residents. Banton is now home to a new village shop, an art gallery, holiday accommodation and a cluster of creative businesses, increasing local resilience and sustainability. It has also inspired other community-led initiatives including the acquisition of a new community-designed play park and a community defibrillator.
Community members recently attended the My Place Awards ceremony where the Swan was crowned the winner of The My Place Sustainability Award 2021. You can view their promotional video here.